Division Membership for 2019:
Anyone, anywhere, interested in creativity, collaboration, innovation and fun may be in a team. Teams must have 4 to 7 members and may be entered as follows:
DIVISION I Prep to Grade 6
DIVISION II Prep to Grade 9
DIVISION III Prep to Grade 12
OPEN DIVISION Prep to Adult – including Tertiary – Open to everyone!
Teams can be made up using any of the above combinations, but remember:
The team's Division is determined by the eldest member:
e.g.  If you have a team consisting of two Grade 6's, one Grade 7 and three Grade 9's, the team will be in DIVISION II.
You can enter as many teams as you like.
Opti-MINDS sets NO limits on your learning.
The Opti-SHOTS Kit 1 is available for purchase. We have them in stock here at Opti-MINDS HQ.
Can't wait to share them with you all.
Click here to launch the online order form.
As usual, any questions, please call the Opti-MINDS Office on: 3862 6211!
EnJOY!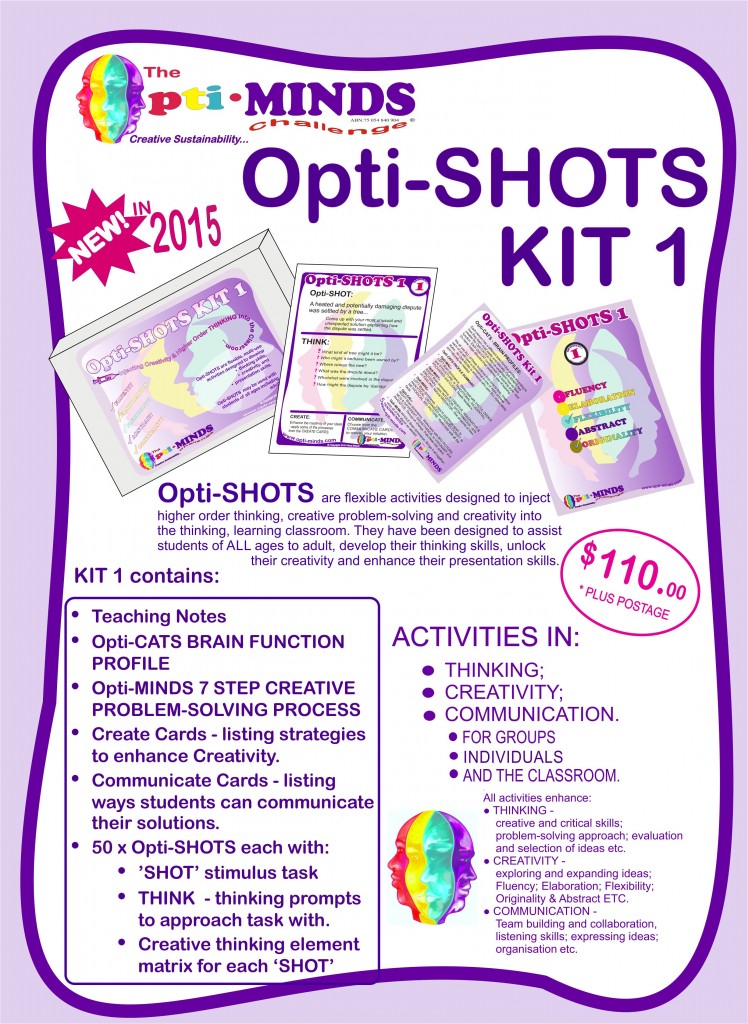 https://opti-minds.com/wp-content/uploads/2015/05/2.png
178
282
Opti-MINDS Inc.
https://opti-minds.com/wp-content/uploads/2015/05/logo.png
Opti-MINDS Inc.
2018-12-03 02:37:44
2018-12-03 15:01:36
Opti-SHOTS Kit 1 - AVAILABLE FOR PURCHASE - click for details and online order form